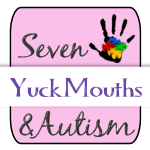 Hello my addicts! Today I am over at
Seven Yuckmouths and Autism
, being a guest for no other reason than I wanted to, and Lisa actually said I could! Click on over and show her some love for hosting me in my excessively sleep deprived state.
TOMORROW, don't forget to come to the #forDeeds twitter party at 8pm MST. There are some really awesome giveaways planned,
Deeds' parents
will be there, it's
Bubbe's twitter debut
, Gina from
Special Happens
will be a special guest.. lots of fun things planned!
Come help us to promote autism awareness and fund raise for Deeds. Spread the word, people, time is running out!