This past Saturday, Logan's OT came over for our monthly visit (only two weeks late! Hey.. it's progress!) and we had a little chat while she and Logan were working. And that.. that's when the double edged sword came out of it's nice, safe sheath.
Before I go on, a disclaimer. There are those this will not like this post. They will be offended and think my fears are completely asinine. There are those that will read it and think, "Lady, I have some seriously potent profanity just for you!" Respectfully, I will simply state that I know my Logan is not at all low functioning on the autism spectrum. I know, without one wisp of a shadow of doubt, that there are many, MANY parents out there that deal with things relating to autism spectrum, SPD, seizures, and allergies that are a hundred million times worse than Logan's worst days. Y'all are my heroes and my inspiration. And I learn from you every day. However, this is my blog, where I tell our family's story. As such, our story is what will be told today. I welcome anyone who would like the chance, to be a guest here to tell their own. Just email me. I'll be happy to discuss it with ya.
Okay. On to the story. I was speaking with our OT about Logan. She mentioned his phenomenal progress (last year at this time he was just learning to sign, but not talking, was taking a few steps at a time,but mostly he scooted around on his bum and whimpered like a puppy when he needed something) and how soon he would be transitioning out of early intervention. And then... the sharp, cold blade of that double edged sword.
I had mentioned that we would be taking a trip "Up North" to Primary Children's Hospital to have Logan officially diagnosed in early July, as we have to wait until he is 3. Also, we have to do it before the beginning of school next year so we can start the evil IEP process for him. She looked me dead in the eye and said, "Caryn you're going to have a hell of a time getting any kind of a spectrum diagnosis for him, even for very high functioning Asperger's."
I must have looked shocked, because she went on to explain that while all the notes for his early intervention visits carefully document his repetitive behaviors, his echolalic tendencies, his meltdowns, seizures, frequent lack of focus and
allergic reaction
s
these people will not be seeing all that. They will only spend a few hours with him, and the chance of all that happening while he is there is slim to none.
Don't get me wrong. I am THRILLED that he is doing so well. I'm over the moon! But you know what's going through my brain? This:
and this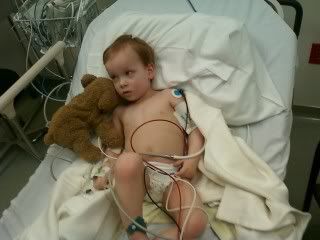 and this
and even this, when the monsterlettes were only 5 days old, because Logan had a rough time getting here. He's the yellow one on the left. Colton is his twin, and he's the chubby red one on the right.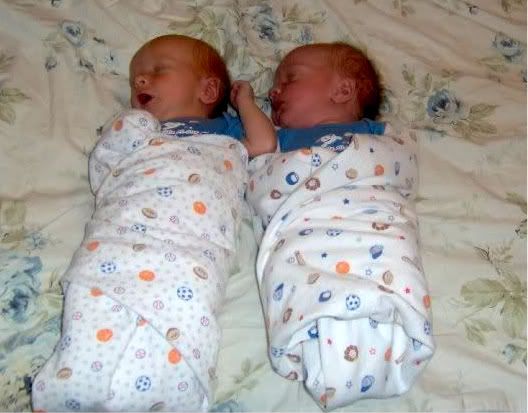 Logan has made "too much progress".. yes, that's a direct quote. And that makes my heart hurt. What exactly does that mean- too much progress? I was really feeling sick when she left, so I called Bubbe. I was nine kinds of upset you see, and you know what she said? She said, "Look, just focus on the physical stuff. That's more than enough to get him support and services in school, what with the unexplained seizures and the sensory things, and the allergies." She's right. But still. Am I just supposed to "forget" about the meltdowns and the repetitive behaviors and the spinning and the hand flapping when he's upset?
I don't know what to do, or think. And I hate it when that happens.
Double edged sword pic by photobucket, of COURSE!