Today is a miserable day. It's cold, it's wet, it's very not fun outside. The twinnies have a hard time with days like this, so we have created special things that we do only when it's storming out. One of their favorite rainy day activities is tie-dyed bubbles in the sensory table. It's messy, it's colorful, it's not allowed at any other time.
So, because I'm all about sharing the messy, I'm going to reveal our tie-dying bubble secrets! First, we spread out an old white flannel sheet. This is for a couple of reasons. 1) it keeps colored water off my kitchen floor and provides easy clean up, 2) I can bleach this sheet before the Daddy gets home and no one is the wiser, and 3) this prevents slipping, because I strip the twinnies down to their diapers before bubble/water play.
Here we go!
Step one:
Spread an OLD sheet on the floor, and then set the sensory table on it. Squirt a generous amount of liquid dish soap into the dry sensory table.
Step Two:
Using your kitchen sink sprayer (because it makes more, and better, bubbles this way!), fill the sensory table about half full with warm water.
Step Three:
Toss all the colorful lids, ladles, cups, and wire whisks you can find into the sensory table with the bubbles and water
Step Four:
Get out your food coloring and sprinkle drops of each color all over the bubbles! Today was a mixture of primary and neon colors.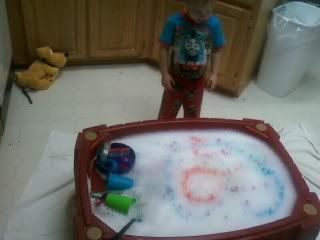 Step Five:
Strip down the kiddies and let them have at it!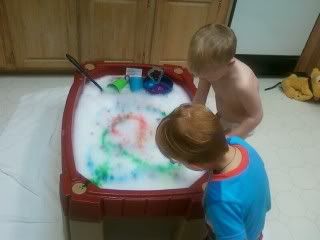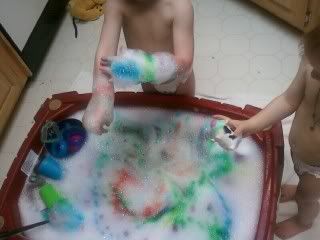 Now really. How cool is THAT?! Have a great Tuesday, everyone!