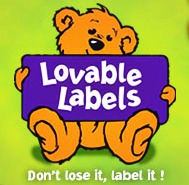 Summer is coming, and with it comes all the activities for kids and families: sports, camps, vacations, sleepovers, play dates, birthday parties, neighborhood BBQs, swimming parties, daycare.. and on and on and on. As fun as all this is, with it comes camping supplies, sports gear, gym bags, extra shoes and clothing, water bottles, hats, towels, sunscreen, medications, lunch bags, snack boxes. It's no wonder that half the summer taken up by thinking, "Did I forget anything?"
Lovable Labels
is here to help! Lovable Labels was started by a mom that had a problem when she took her son to daycare and was asked to label all of his belongings - from
clothes
and backpack, to
lunches and sippy cups
. It was during this process that she recognized the need for personalized labels that were tough, durable, and could withstand the test of time and rough everyday use that comes with being a kid.
Lovable Labels launched in 2003, with personalized durable labels and tags being their specialty. Their labels are waterproof, dishwasher and microwave safe, washer and dryer safe,
and
sun, bleach, sunscreen, and temperature safe to boot! Since their launch, Lovable Labels has continued to develop innovative and useful products, and many of them came about through customer suggestions and feedback!
We all know that our kids lose stuff. They forget where their lunch bag landed, or one shoe will mysteriously disappear. The weather will warm during the day, and the jacket gets tossed to the side. It's inevitable that they will return home missing one thing or another. BUT, with Lovable Labels, your child's belongings will come back home, because there will be no question who the items belong to.
The Monster House was thrilled to review a
Split Pack
of Lovable Labels. This is a large value pack of labels, with one design and two names. Each name packet includes:
15 Sticker labels
40 Slimline labels
12 shoes labels
24 Press n' Stick Clothing DOTS™
This was perfect for our twinnies, who both started preschool this year. And, you guessed it. We had to label shoes, back packs, coats, benadryl, epipen, and even treats to be kept in the classroom cupboard for Logan, because he is so deathly allergic to most sweets.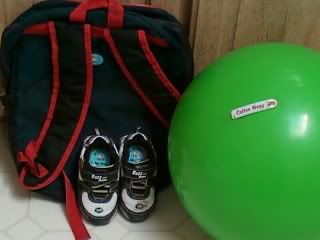 But the need for labeling didn't stop there! Both of my monsterlettes have sensory issues, so the labeling went on to include therapy balls, giant bottles of bubbles, and other items. I cannot tell you how many times I have been thankful for these labels. And they last! Unlike other labels I've used, these have never fallen off toys,clothes, cups,etc.
But, let's talk about other good uses for the split pack that we discovered. Both twins were sick at the same time. Not wanting to pass along germs and illness into infinity, I gave them each their own bottle of sports drink. But, they both wanted the same flavor. Oh, yes we did! We labeled it, and the twinnies thought that was the coolest thing ever!
My favorite thing about Lovable Labels is the variety. Shoe labels, slimline, Clothing DOTS™, camp packs and medical/allergy warnings are just a few of the choices Lovable Labels offers. They are located online, which makes ordering easy for anyone, anywhere in the world! Lovable Labels is open 24 hours a day, 7 days a week via
their website
, or by calling 1.866.327.LOVE (5683)
I'm so excited to announce that Lovable Labels is offering a Split Pack to one lucky Living with Logan reader in the US or Canada! Entering is easy, by using the rafflecopter form below. Entrants must be 18 or older to be eligible for this giveaway.
**DISCLOSURE** The product in this review was provided to me free of charge for the purpose of conducting this review. All opinions in this review are my own, and are not influenced by monetary compensation.** a Rafflecopter giveaway