There is something I have to confess. I am a slipper addict. I wear slippers all day long, whatever the weather, whatever the season. I have been known to run to the store or the post office while wearing them. At least I haven't even gone to one of my children's schools with slippers on, in a ratty bathrobe, with curlers in my hair. For one thing, I don't wear curlers. And for another, if I did that, I would traumatize small children and most household pets.
I consider myself a slipper connoisseur. It sounds elegant, you know. So, when I heard that
Nature's Sleep
wanted some bloggers to help do reviews, I jumped at the chance!
Nature's Sleep
is known for their
memory foam mattresses
and variety of
pillows
, but did you know that they also have toppers, foundations,
memory foam slippers
and even a
pet bed
your pet will fall in love with? Nature's Sleep has something for everyone. And, by
registering your email on the Nature's Sleep site
, you'll be privy to exclusive deals, info on new products AND be able to enter to win in their Monthly Mattress Giveaway!
I was thrilled to be able to review a pair of
open toed terry slippers
made with Nature's Sleep memory foam. I anxiously awaited the arrival of the FedEx man and UPS man each day, silently chanting "Please let today be the day! Please let today be the day!" And finally, one day, it was THE DAY!
I recieved open toed terry slippers in Mocha. There are both
open toe
and
closed toe slippers
to choose from, in a variety of colors. The ones I reviewed are available in Mocha, Lavender, or Pale Blue.
I have to be honest. I ripped open that FedEx package about 3.7 seconds after I got it. I was SO excited! We were still having freezing weather here in Southern Utah at the end of April when I received them, so I was anxious to see how these memory foam slippers measured up to a pair of expensive Isotoner arch support slippers I had purchased just a couple of weeks prior to getting these. I have high arches that are falling, so I have daily foot pain that can get so severe that I hobble.
The first time I wore these slippers, I was disappointed! It felt like there was a wooden block in the heels of the slippers. When I think slippers, I think cushy, and relaxing, and the very definition of comfort. This is not what I experienced that first time. But, I told myself, maybe it's because it's been so cold, and the memory foam just needs to warm up and mold to the shape of my feet. I was seriously worried, people! I thought, I can't put up a review about these slippers! But I was determined that even if the review was not favorable, I was going to make sure I had given these new slippers as much of a chance as I could.
I was so glad I did!
I wore them all that first day. That night, when I went to bed, I noticed
my feet didn't hurt
! This was HUGE!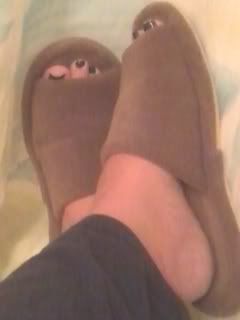 The next morning, I put them on again as soon as I got up. They were comfortable. They were cushy, but not in a "super soft, pillow for your feet" kind of cushy. It's the "tailor made for your foot so they feel wonderful" kind of cushy. And just like that, I was in LOVE with these slippers. They have never been uncomfortable since that first few hours. The expensive Isotoner ones? They make my feet hurt. These? I never want to take them off. Ever. Again.
Guess what! Living with Logan readers can shop online with Nature's Sleep and receive 50% off anything on the site by entering
BEARS50
savings code when checking out. How cool is that!
Are you jealous of my relaxed, happy feet up there in that picture? Are you wishing
you
had a pair of memory foam slippers of your very own? The good people at Nature's Sleep think jealousy is a bad thing. Okay, I don't KNOW that. But, I DO know one lucky Living with Logan reader in the US or Canada will WIN a pair of open toe terry slippers like mine for their VERY OWN!!
Entering is super easy. Just follow instructions within the rafflecopter form below. You do not need to be a blogger to win, but you do need to a valid email address. Entries will be verified. Giveaway opens Wednesday, May 16 and closes 12:01am EST Thursday, May 31
**Disclaimer: I received a pair of memory foam slippers to review free of charge. All views and opinions expressed are my own. Your views and opinions may vary from mine. **
a Rafflecopter giveaway