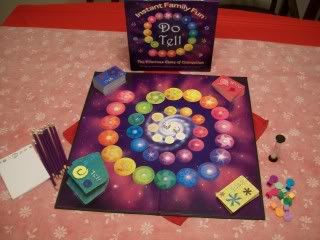 At the Monster House, family is everything. We dedicate our Saturdays to family, and every Sunday we have Grama and Grandad over to Sunday Dinner. It is so important to me to teach my monsters the value of quality time with each other. So, when I was approached by Kathy from Do Tell to do a review on her new family board game, I grabbed that opportunity and ran with it. I did some research before I received the game, by going through their
website
and reading all about it
.
Do Tell is a family relationships board game that encourages the players to share what they would do in certain situations, demonstrate talents, and interact in silly ways. We played as a family when Grama and Grandad were here, and at one point, everyone was barking like happy puppies so they could move their game pieces ahead one space!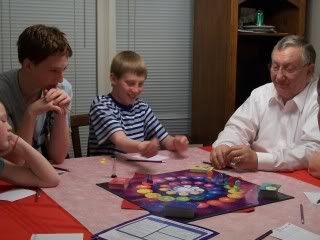 Do Tell family version has even won awards, such as the Kidlutions Preferred Product award
"Because it just exemplifies what social-emotional development is all about" You can read Kidlutions' entire review
here.
As our family played, laughed, wrote things down, and grew closer through the experience, I watched. We all know that this is what mothers do... but I watched. And I saw my family in a little bit different light. We were playing together, yes, but we were also learning more about each other, and I daresay my monsters came away from that family time with a little more respect for one another. There is always something the monsters are busy doing, between school, church, and friends. Not to mention the fact that the Daddy often works late hours and on the weekends. It's hard enough to get time together, much less be able to turn it in to quality time everyone enjoys. This game does that for us, without the monsters even noticing.
If the Monster House had awards for products, this game would get one. It's fun, it's smart, and it's a rockin' good time. But more than that, it's a game the whole family can get into whether you are 8 or 88. Don't believe me? Take a look at the proof:
Think your family would like this game? I do too! You can purchase your very own Do Tell family version for the very low price of $29.95 through Amazon, here . Do Tell comes in the family version, and in the original relationships version, priced at $34.95, which is geared toward players aged 16 and up. Play this game with your family, and I guarantee you will learn things about each other that you didn't know before you started playing.
Do Tell, the Monster House gives this game 18 thumbs up!