The last couple of weeks have been an expensive, stressful ride, for the Monster House. We've had car damages that are costing over a thousand dollars in parts alone, we've had an emergency visit to an Opthalmic Specialist for #6, Easter weekend found us with a house guest that we weren't expecting, and last night, the Daddy's work computer decided this would be a good time to die.
With every new thing, another drop is added to the bucket. Stressors are compounded with every drip. Emotions run high. You find yourself becoming irritable and tense. Eventually, you outgrow the bucket intended for all those evil little drops, and you get the equivalent of a natural disaster in your brain. You are now at overload. This is not good.
How then, do you quiet the flood waters and calm yourself, while still taking care of daily responsibilities that cannot be put off? Children must still be fed, clothed, and nurtured. The house must still be kept in some semblance of order, lest the meanies at Child Services come for a visit.

It's always a plus when your personal hygiene is under control, which means you have to carve out 15 minutes somewhere in your day to allow for washing your hair, shaving your legs, and brushing your teeth. That may be the hardest task to accomplish, as many parents I know have a rough time just getting to the commode unescorted. Oh, and by the way... if you do manage to carve out that 15 minutes, that also means that at some point, you've had to wash (and remember to dry) towels. Otherwise, you're stuck with the last threadbare washcloth in the linen cupboard, and I'm here to tell ya that it won't be all that satisfying to dry off with, as it's 15 years old and now the size and thickness of a postage stamp.
How can you take all those drops from your bucket, dry out, and start with a fresh out look, a better attitude, and a willingness to keep trying?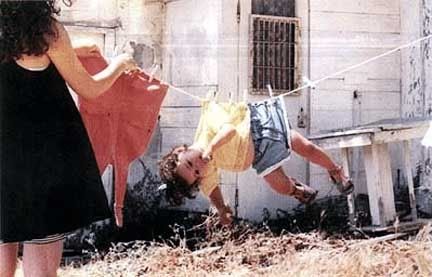 Well. As much as I would love to be able to answer that question intelligently, I got nuthin'. Also, I'm being distracted by that picture up there ... it's making me laugh, and that's probably bad, right? Oh, well. At least I can still laugh.. and that's a step in the right direction.
If YOU have any helpful hints about calming the flood waters, I would love to read them! Please put them in the comment section below. Please refrain from spamming me with self help seminars, a book on 12 easy steps to financial freedom, or parenting magazines. Now is not a good time. The likelihood of extreme profanity from the direction of The Momma hurled in the direction of the spammer, is extremely great. I'm just sayin'.
Awesome photos provided by Photobucket, of COURSE!