Don't run away screaming, I promise it won't hurt for long. This was taken last September, in my bathroom, the morning after Logan was released from the hospital, after a night with no sleep. I'm actually pretty impressed. Usually, I will only publish it with a sepia wash because I have a permanent wrinkle by my left eyebrow that makes me nutty. (Mom was right. My face DID freeze into the scowl I had as a teenager. True story.) This was the very definition of a good hair day. I look.... pleasant. I DO have a point. Stick with me, here.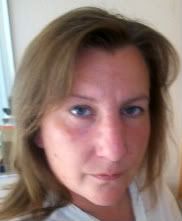 And... this is me now. Thinner hair, more wrinkles, tired eyes, pursed lips, I'm just cranky. I'm cranky ALL. THE. TIME. Personally, I think that glassy sheen in my eyes is a nice touch for the sleep deprived zombie look. What a difference 6 months of perpetual awake makes, huh? Also, I haven't had the time/money/motivation to get a hair cut/color. Get over it.
Okay, OKAY! I'm getting to the point! Today was most awesome, if I do say so myself. An angel, in the form of our former nanny. came to the house to talk about becoming a respite care giver for the monsterlettes for a couple hours a day, twice a week. Why? So I can.........SLEEP! Sleep! I hardly even know what the meaning of that word is anymore! The euphoria is better than anything any pharmaceutical company could EVER come up with.
And so, addicts, though I may miss a day here and there on the blog when she's here, I can pretty much guarantee you I'll be doing something vitally important. Like this: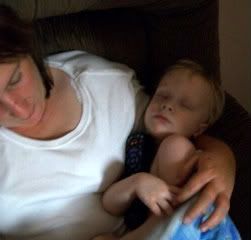 And people? Her first training day is TOMORROW! Woot! How lame am I that I took up an entire blog post on this nonsense? But still.. WOOT!!!!!