Hello, devoted Monster House Addicts! So much going on, so much to tell you! Darn my cranky internet, which has been sporadic at best, thanks to all kinds of high winds in the past week. We're better now, thank goodness. Today, I have news that will knock your cute lil socks off. Brace yourselves, people.
Earlier this month, I was contacted by the awesome people at
Klutchclub
. I have to be honest. When I first read the email asking if I might like to do a write up of their "Spring Clean Your Body" box, I laughed. I laughed, and I snorted, and I even thought, "Oh, you sweet little person that has no idea who I am. I am the blogger that dreams of bakers and chocolatiers, and hopes to go see Carlo's Bakery in person before I die. I don't dream in technicolor, I dream in Ben and Jerry!"
But, for some reason I didn't delete the email, and in a moment of weakness, I accepted the offer to review their April box. And the whole time between accepting and receiving, I berated myself: "Are you
completely
loony? You do realize that you're going to have to exercise and do a cleanse or something, right? Brownies are NOT cleansing!!"
And then.. the day came that the box arrived. It was actually pretty impressive. Check it out, people.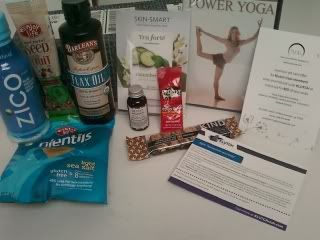 Included in my box (which is what was sent out to members in April) was:
Kristin McGee's Power Yoga DVD
$25 gift card to Yoga Hyde all natural organic yoga clothes and outfits
ZICO Pure Premium Coconut Water
Tea Forte SKIN SMART antioxidant amplifier tea, in Cherry Marzipan, Cucumber Mint,and Honey Yuzu
KIND bar (peanut butter and dark chocolate + protein.. yum!)
Enjoy Life Plentils (lentil chips, which taste amazingly like baked potato chips.)
Enjoy Life No Nuts! Seed and Fruit Mix (Double yum, with mini chocolate chips!)
HyDrive Energy Drink Mix
Barlean's Organic Flax Oil (Okay, I admit it. I'm too chicken to try this yet)
Shea Terra Organics Rose Hips Black Soap Deep Pore Facial Wash ( which is supposed to be like microderm abrasion in a bottle). Contains whole herbs, oils, seeds and no artificial fragrances.
Are you ready for the shocker? Okay. I've been doing Yoga every day except Sunday for the last TWO AND A HALF WEEKS, people. And you know what? I LOVE IT!!! This is the exercise program I have been waiting for... I just didn't know it. This is probably the longest I have ever stuck with an exercise routine, and I look forward to doing it. I. look. forward. to. it!!
So here's the amazingest part. Joining KLUTCHclub is simple and easy on the budget. For about $17.00 a month,
depending on the subscription you choose
, you will get a customized box of health, wellness, and fitness products shipped once a month right to your door to use in the convenience of your home.
Here's
how it works
:
Sign up and choose the membership that best fits YOUR life by creating a profile so the good people at KLUTCHclub can select products that best fit YOUR health, wellness, and fitness goals. Then, on the 15th of each month, your box will be shipped to you, containing over $50 of products that fit your lifestyle. AND, you'll receive additional promotions online, as well as having access to
their blog
which covers topics like beauty, beverages, cleanse, food, and health.
But wait, there's MORE! You can get 10% off in the month of May by entering the code BRIGHTPINK, ( don't shoot me, people. I know there's only 2 days left of it. Internet issues.) and 10% will also be donated to BrightPink for early detection, prevention, and awareness of breast and ovarian cancer. It just don't get much better than that!
You can find KLUTCHclub on their
official site
,
facebook
,
twitter
, and
Pinterest
, too! But don't just take my word for how amazing KLUTCHclub is.. they've gotten a lot of good press lately from
Glamour.com
,
VitalJuice
,
Shape
, and
Beauty Sweet Spot
. Check it out, y'all! I promise you won't be disappointed.
And now.. I think I'll go do my yoga.