It's that time of year again, when I absolutely hate the way I look. I take a vow to loathe anyone that weighs less than 600 pounds, looks good in a swimsuit, loses their baby weight within 45 minutes of giving birth, or who has a functional metabolism.
I start stalking the produce section as I grocery shop, fantasizing in my head that the Special K diet really *will* work, because I won't do it with sides of French toast and bacon this time. I tell myself that I don't need m&ms or any other form of chocolate. I make a halfhearted promise to myself that I will stop baking no matter how therapeutic it is late at night after a super dee duper stressful day. I vow to stop buying brown sugar and chocolate chips. I take out the yoga DVD and pretend that I love the soft, never irritated voice of the yoga witch who never sweats, grunts, or uses profanity as she smilingly twists herself into positions that normal people need the jaws of life and 16 fire fighters to get out of.
I remind myself how much better I felt last year when I lost 20 pounds in 6 weeks. I remind myself that it got easier every time I exercised, and how exhilarating it was when my pants started falling off my body.
And none of this lying to myself is working. The truth of the matter is, I hate cheerful workout instructors. They piss me off. Do *not* grin and say, "Only 60,000 crunches left to go! You can do it! You're stronger than you think!" No. I can't do it. I'm having delusions about Ben and Jerry right now, thank you very much. So you can take your happy crunches and...uh.. ahem. Sorry.
I despise people who don't sweat and curse and burst into sobs at the mention of aerobics. I need cranky, bitter exercise workouts. I need "have you LOST YOUR MIND?!" from the paid "beginner class" featured in the sessions. I need shrieks of "what fresh hell is THIS?!", so I know that I'm not the only one about to die. And you know, it wouldn't hurt to have some big, burly guy with a six pack shriek, "Medic! Man down!" as he writhes on the floor in excruciating pain during beginning warm up stretches. That would be groovy. I would smile, maybe.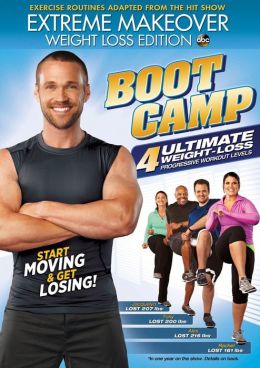 So, imagine my delight when I got the opportunity to review the Extreme Makeover: Weight Loss Edition - Bootcamp DVD from Lionsgate Home Entertainment. These would be real people, with real sweat and real edited out profanity! With real cellulite, and real cottage cheese thighs. People who actually know what a caramel roll tastes like, and people who have eaten more than carrot sticks within the last 12 years. This could be awesome! Oh! Maybe someone will punch the instructor in the side of the head and run off with a chicken leg!! I was freaking hyper about this, if you want to know the truth. That is, until I realized that yes, these people would actually be... exercising. Well, crap. Foiled again.
It took two weeks, but I actually did unwrap the protective cellophane cover from the DVD. I broke a sweat and called it good. And then, I started having guilt about the review that I was supposed to write. But then, my pc died a horrible, stupid death, and I had to mourn, you know. SAVED by a "death in the family"!! But then the iPad arrived, and I was doomed. Doomed to exercise hell.
I braced myself by eating a package of oreos, and prepared to become intimately acquainted with Chris Powell, transformation specialist extraordinaire. Here's what I discovered:
four fat blasting workouts is just another way of saying "You're still going to feel like you're about to die. Here's four choices for cause of death"
"Melt inches" is instructor speak for "You will drown in your own sweat. Strap on the snorkel."
"Calorie crushing", "Shred", and "sculpt" are all polite ways to tell you that you will never walk upright again.
All joking aside, here's the deal: this DVD offers a multitude of workout options that will work for anyone, regardless of their love/hate relationship with exercise.With the level options, warm up, and cool down, there are no more excuses for me not to exercise. Starting with Level 1 and working my way up as things get more manageable for me is a great way to get into exercising regularly again. I don't feel overwhelmed and incapable, because I'm sticking to a workout I can manage. And, if I ever get the urge to smash the TV so I won't have to hear Chris' voice, well.. there's a music only option available on the DVD for when I am familiar enough with the routines to do it on my own. The TV will live on.
Past contestants on the Extreme Makeover: Weight Loss Edition show are featured as well, so it's not as intimidating for me. This actually *is* the answer to my exercise needs. Think it's your answer too? You can find Extreme Makeover: Weight Loss Edition - Bootcamp on DVD for the MSRP of $14.98. Try it out, people. If *I*, the cynical, oreo loving mother of 7 with all the baby weight to prove it, can do it, y'all can. We'll totally cheer each other on. We'll become like those annoying skinny people on facebook with smiles that look like a mouth full of chicklets, and spray paint six packs on our bellies to embarrass our children. It'll be epic!

**Disclaimer** I received a free copy of Extreme Makeover: Weight Loss Edition - Bootcamp for purposes of this review. Views and opinions expressed in this review are mine alone and were not compensated.